I'm Caren, a fiction, essay, and review writer living outside Seattle, WA with my husband, the artist and data scientist, Chris Sumption, and our ridiculously spoiled cat-children.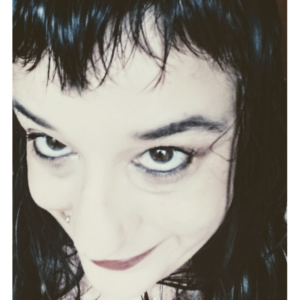 Born in New York, I attended the University of Colorado, the School of the Art Institute of Chicago, Clarion West (as the Carl Brandon Society's Octavia Butler scholar) and the Launchpad Astronomy Workshop. I'm also a Hedgebrook alum (2010, 2016). I started writing fiction and teaching professionally in 2000, with the publication of my first novel, Homecoming.
I'm of Jewish and Romany heritage (proudly Didicai [Kalderash] and Hiloni [חִלּוֹנִי]). I live with Ankylosing Spondylitis, Psoriatic Arthritis, and some cousin conditions, and was diagnosed with Autism as an adult, for which I'm exceedingly grateful.
Beginning in 2021, I was appointed to the Renton Municipal Arts Commission. I also serve on the board of Walk AS One, increasing Ankylosing Spondylitis awareness and producing the yearly walkathon events.
In my spare time, I'm an enthusiastic knitter, and design/publish patterns. I love serial commas, quadruple espressos, over-analyzing things, and Supernatural. My turn offs include ear infections, black mold, and raisins in oatmeal cookies.